On Friday, September 27, the IAAF World Championships in Doha, Qatar, kick off with heats of the men's 100 meters, women's 800 meters, women's 3,000-meter steeplechase, and men's 5,000 meters, as well as the women's marathon.
While the four-year wait between Olympic Games can drag on, running fans get a dose of global competition every other year: the IAAF World Championships. This year, the 10-day event is taking place in Doha, Qatar, from September 27 through October 6.
Here's how to follow along wherever you are:
What: The 2019 World Championships
Why You Should Watch: It's the best track & field competition the world has to offer outside of the Olympic Games.
When: Races and field events kick off on September 27 and run through October 6. The schedule of events can be found here.
Where: On September 27, NBC Sports is airing the track events from 9:30 to 2 p.m. EST and the women's marathon from 8 p.m. to 11 p.m. EST. Additionally, the Olympic Channel will be broadcasting from 5 to 8 p.m. You can also stream the events on NBC Sports Gold (requires a $69.99 subscription). You can find the full broadcast coverage schedule here.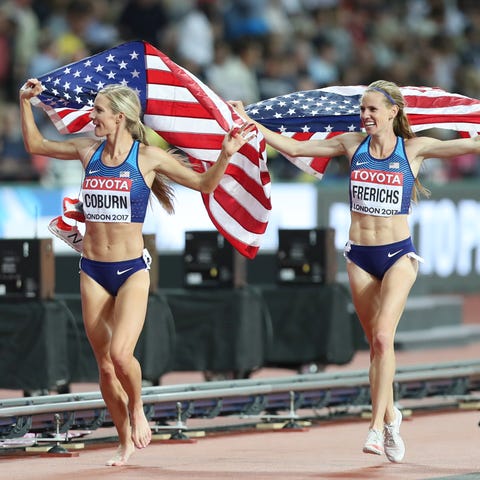 This year's meet is unique because it's the first time a Middle Eastern city has hosted the event. (Eugene, Oregon, and Barcelona were also considered as venues.) It also might be one of the hottest world championships. In early October, Doha is predicted to have lows in the upper 70s and highs in the upper 90s, with fluctuating humidity levels making those temperatures feel even hotter. To reduce the likelihood of heat stroke or exhaustion, all of the events are scheduled to start after 4 p.m. Doha time (9 a.m. EST), with some events much later—including the marathon, which kicks off at midnight on September 27.
LIVE COVERAGE
The IAAF World Athletics Championships Doha 2019 will be broadcast around the world in more than 160 territories. Fans from all other territories will have access to a live stream on the IAAF's YouTube channel.
And you can listen live, too! Follow the IAAF Production team's audio coverage of every race, jump and throw during each competition session.